Homeland Security has issued a Cyber Emergency Response Team alert with an update on the Petya Malware Variant. We are passing along their recommendations to you with some specific commentary associated with your existing or potential Paladin installation because you have shown interest in our products, services, or webinars:
Cybersecurity researchers have been aware of the Petya malware
since 2016 (explanation)
and have recently identified a new enhanced variant with several different names, including "NotPetya," "Petrwrap," "GoldenEye," and "Nyetya." Current reporting suggests that the initial infection vector for the Petya variant may be the result of a
supply chain attack (explanation)
against accounting software MEDoc.
Users should consider taking the following actions, following locally-approved processes and defense response measures:
Apply the Microsoft patch, MS17-010

(

found here

)

to all appropriate and supported Microsoft systems.

Disable SMBv1 on every system connected to the network. Information on how to disable SMBv1 is available from

Microsoft here

.

While many modern devices will operate correctly without SMBv1, some older devices may experience communication or file/device access disruptions.

Microsoft recommends

blocking all traffic on Port 139/TCP and 445/TCP to prevent propagation. Microsoft has also recommends that their users can also disable remote WMI and file sharing.

Review network traffic to confirm that there is no unexpected SMBv1 network traffic. SecuLore's Paladin can be used to identify this traffic, using the "Protocols" part of the interface, looking for the "nbss" protocol (Network Bios Session Service). An example screen shot from Paladin v3b.6.2.0 is shown below.

Isolate or protect vulnerable embedded systems that cannot be patched from potential network exploitation.
Our SecuLore team would be happy to assist.

S

hould you need assistance on how to apply these changes and/or wish to discuss how to evaluate your options with systems that cannot be patched, please feel free to
contact us at
Support@SecuLore.com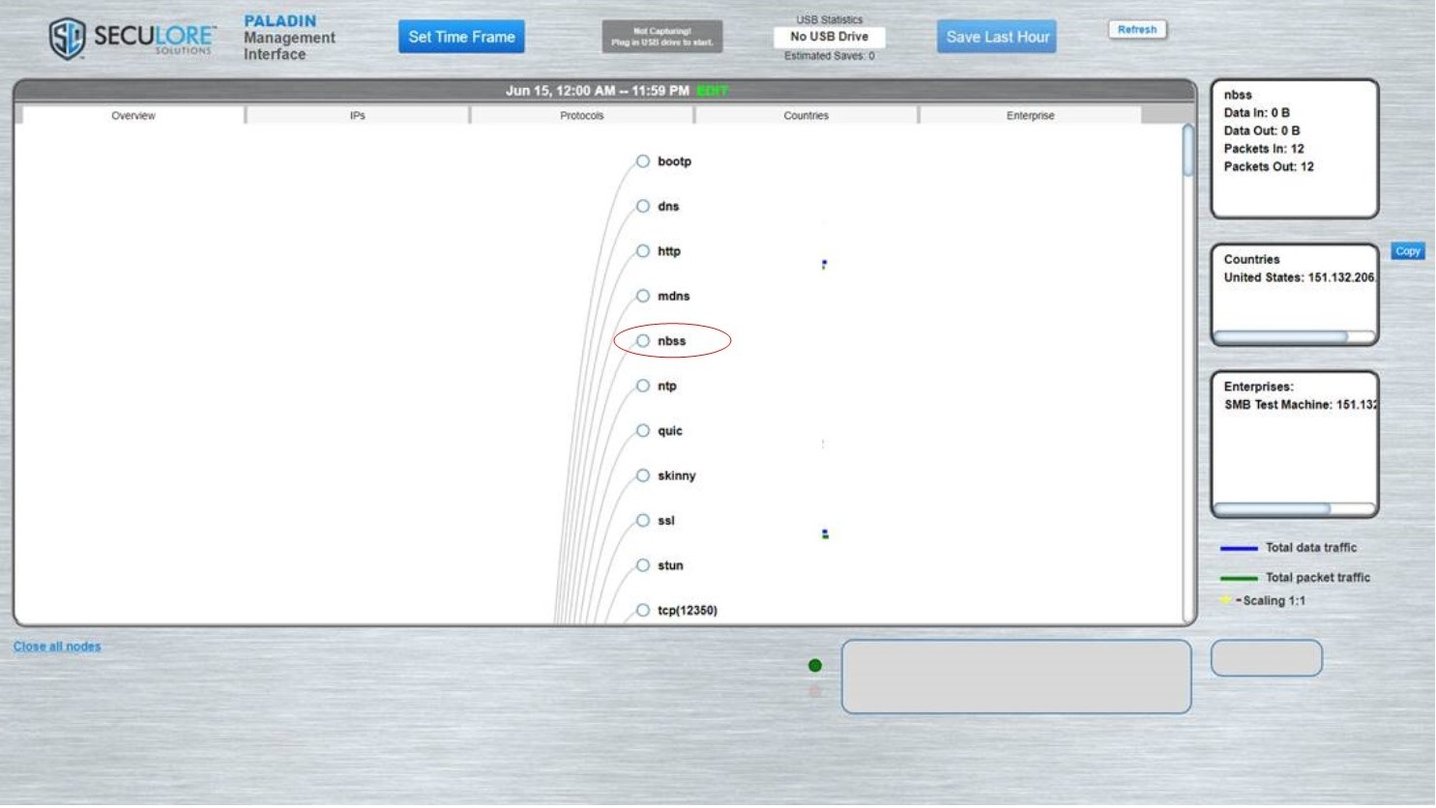 SecuLore Solutions is a Public Safety company focused on cybersecurity - if you wish to learn more or have concerns about your network, please contact us at
info@SecuLore.com
or visit us at
www.SecuLore.com
---